Gracik Makinney Real Estate Group Print Ads
Community knowledge. Industry experience. Personal dedication.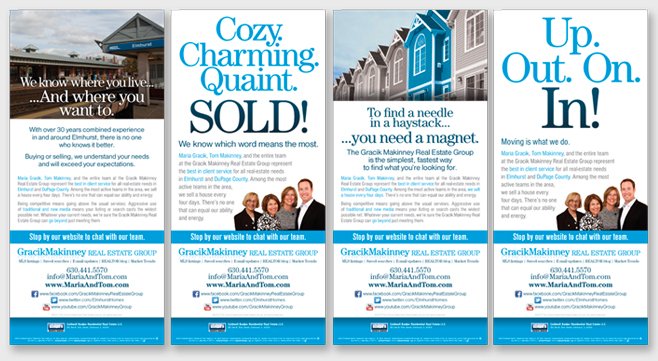 A Team Approach to Elmhurst & Dupage County Real Estate, and Beyond.
The Gracik Makinney Real Estate Group
represents the best in client service for all real-estate needs in Elmhurst and DuPage County. ThinkPiece Creative created a series of print ads that showcased their abilities. Using clear, direct messaging these ads quickly gain attention and present The Gracik Makinney Real Estate Group as leaders in their industry. Since 2006 they have sold over 370 homes and totaling over $190 million in sales, continuously ranking as top producers in Dupage County. In 2011 the team was ranked #1 in the Elmhurst Market Share, and most recently grew their business by over 30% to place, for the 2nd year in a row, in the top ten agents of DuPage County for 2012. If you are looking for the most driven team of real estate professionals that will work efficiently and effectively for you - look no further!