Javelin Bike Conceptual Exploration
Javelin Bikes is a performance-focused professional cycle manufacturer.
Custom-tailored Performance.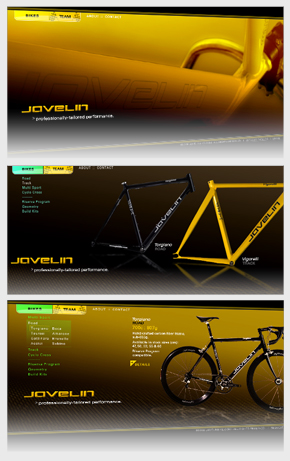 Javelin features custom-tailored cycles that are built to their rider's exact specifications. They customers are third-tier cyclers that are looking to shave nano seconds from their time trials. Needless to say they needed a website that matched their caliber of product.
This work represents a few hours spent developing a visual approach to a website that presents Javelin as an industry leader in custom-tailored performance. Unfortunately, the rubber never got a chance to meet the road. As an avid recreational cycler, I enjoyed the time spent all the same.