Saint Anthony Hospital Identity
Saint Anthony Hospital is committed to providing community wellness to the diverse neighborhoods it serves.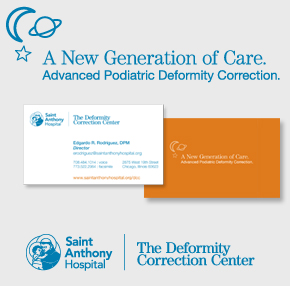 A New Generation of Care.
Saint Anthony Hospital provides advanced podiatric care through its Deformity Correction Center. It's goal is to treat adolescent patients affected with deformities such as club foot through advanced techniques not available in less advanced parts of the world. As a sub brand to the Saint Anthony Hospital, the Deformity Correction Center needed an identity that reflected the type of care provided.